HISTORY
Over the years, with a burgeoning population, Malaysia's baby apparel and accessory market/industry have grown significantly as well as the market new players. The market became very competitive. FIFFY is the homegrown brands, has rapidly secured a comfortable niche in Malaysian market. This family-owned business has executed simple, but a strategic move to attain leadership in manufacturing and distributing baby products in Malaysia. An obvious testimony to this quick climb to the top was when FIFFY secured the number one spot as the top selling baby apparel range in one of Malaysia's most prominent hypermarket chains; with over 600 outlets and counters. FIFFY products also widely retailed in department stores and baby centers, and today FIFFY products are available throughout nationwide and retains the comfortable rank of the top 3 best-selling baby products in Malaysia.
The FIFFY brand was established as a home-based business under the solid management of Teo & Lee Garment Manufacturing Sdn Bhd, solely manufacturing baby apparel for the Malaysian market. The founder, Mr. Lee Kiam Heng's passion and entrepreneurship skills were the catalyst that allowed FIFFY to expend from small home business to securing major retail spots in many supermarkets and shopping malls. The growth of FIFFY is also greatly attributed to the partnership with Mr. Teo Ek Tian, a partnership that began with the conception of the company. He was instrumental in the setting up of FIFFY and was the person responsible for contributing ideas and advising on the intricacies of the baby wear manufacturing business. FIFFY attributes its growth and continued success to this visionary partner.
In 1988, the company sets up a marketing arm company FIFFY SDN.BHD. (Formerly known as Ekspres T. H. Sdn Bhd,) mainly to facilitate a more hands-on approach to market and retail of FIFFY range products. This enables the Teo & Lee Garment Manufacturing to focus on manufacturing aspects and FIFFY SDN.BHD. (Formerly known as Ekspres T. H. Sdn Bhd) concentrates continued growth in the country and the region.
FIFFY had increased market dominance inspired it to set up its own exclusive retailing boutiques, specifically selling the whole range of FIFFY products. Today, there are 16 FIFFY boutiques, each strategically chosen to cater to the loyal consumers in Malaysia.
FIFFY's product range is wide and varied, creative and practical. It includes baby suits, hats, socks, diaper pants, feeding bottles and accessories, bowl sets, breast pumps, nursing pads, toiletries, wet wipes, baby baths and shampoos, play mats, soft toys, warmers, nursing bags and baby bedding such as mattresses, blankets, cradles and mosquito nets.
FIFFY also adopts various promotional activities in Malaysia to accentuate its range of offerings. Other than conventional advertising in the major newspapers and magazines, FIFFY conducts high profile in-house promotion at all its major retail outlets, in particular the major baby centers and departmental stores. All this advertising and promotional campaigns have successfully positioned FIFFY as an affordable, trusted and a quality-conscious brand amongst the local consumers. Besides the broadcast and print media and point of sales materials, in store promotions at the major retailer centers also carried out to enhance product visibility and generate a sense of interest amongst the customers to purchase FIFFY products.
We are likewise going on to invest extensively in research and development to assure our products are safe, hygienic, comfortable and practical. FIFFY is always providing competitive price in the market without scarifying product's quality. We care baby's health and maternal bliss!
Address of Fiffy Boutique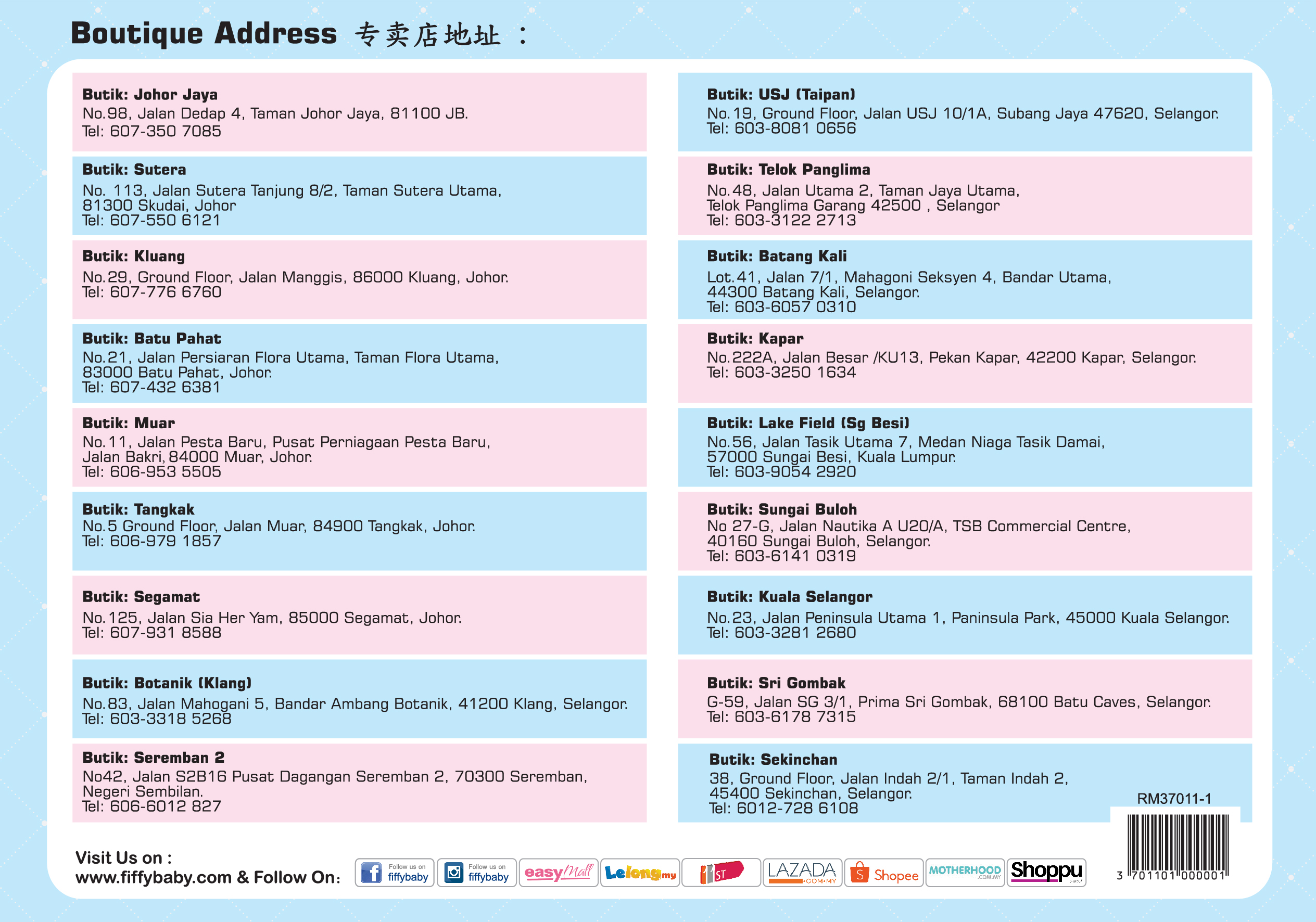 VISION
To be the leading manufacturer and distributor of baby products in this region and delivering value-added service to all customers.
MISSION
FIFFY's philosophy to develop a long term relationship with its customers by producing baby products that are safe, quality, practical and value for money without compromising on its quality.